I always thought I hated murals on walls. I generally like really clean, simple, plain things. A beautifully painted solid colored wall with one pretty picture frame makes me happy! But lately, I have been watching a lot of HGTV and doing some research online and I have fallen in love with wall murals!
This is what I thought of when I thought of murals before:
While it looks kind of nifty, who in the world wants this in their house!?!!??!
This one cracks me up. It's beautiful, yes. But REALLY?
Well, I have been doing some research and found some classy and well-done murals. They don't all look silly and they aren't all of faces or landscapes (believe it or not)!!! And I seem to be attracted to trees...
See? It's simple, modern, and it has clean lines! It isn't overdone... although the bedspread could probably go.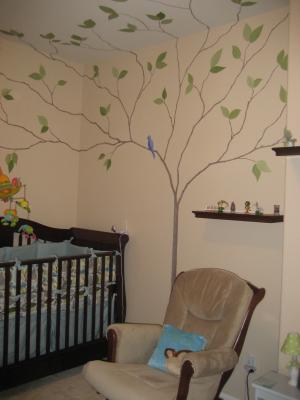 How cute for a nursey!


I am really liking this in conjunction with a headboard.
Does anyone out there have a mural in their house? The only thing that worries me is that I might like to change the furniture around a bit sometime. Then what do I do with this mural?! It seems like the mural has to be painted with the furniture placement in mind or else it won't really make sense. Maybe someday this will be on our to-do list...