I have some cool plans for this wall in our living room:
There is such a pretty staircase there and it is totally ruined by the air intake thing-y and the temperature thing-y, too. I would love to put a small upholstered chair (in a different color than the couches) there to block the air intake thing (but not prevent it from doing its job) and "frame" the chair with a wall gallery of white frames. I have become completely enamored with frame galleries lately. Here are some of my favorites: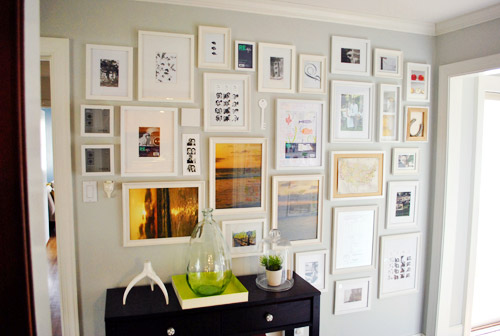 So, I am happy to say that I officially started the process of making that wall "mine". I ordered
this chair
for $95 on clearance on Target's website.
I am excited that it's simple. And that it's green-ish. The product reviews are varied. Some say "it's awesome" and "best chair I ever had". Some say "hard to assemble" or fabric was ripped". Well here's what I'm thinking: If I don't like anything about it... I will return it! We want to incorporate lots of green and white and a little yellow into this room, so this chair is step one. And lucky for us, many of the reviews say that the chair came in a little more like "green-yellow" than "sage" (which is what it is advertised as). So, we will see when it is delivered.
Next step: I gathered all of the frames that I wasn't using at the time and laid them out in a random arrangement:
I was happy. So I removed all of the art and glass, took the frames outside and spray painted the crap out of them. I really liked the look of brown and black frames together, but it didn't seem right. So I went with all white. I might do a brown-and-black-kind-of-thing upstairs someday. I decided to label the glass and frames with post-its and permanent black markers. I gave each one a number so I wouldn't have to spend all day finding out which glass went back into which frame.
After my spray painting job was complete, I found this little white guy:
Guess I sprayed that little spider and didn't even notice it. He was frozen by the time I got to him. So, step one is complete. Next, I have to wait for the chair, arrange the frames on the wall and nail them in, then add art. I would eventually like to add a floor lamp in that area, too. One step at a time.
The best part: the wall gallery project has only cost me $8 so far for spray paint because I had all of the frames already. It is my goal to keep the cost of all of the art under $10. Think it's possible? We will see...